Seven weeks gone and club football has gone on the international break. Teams who didn't get the right result would be itching to try...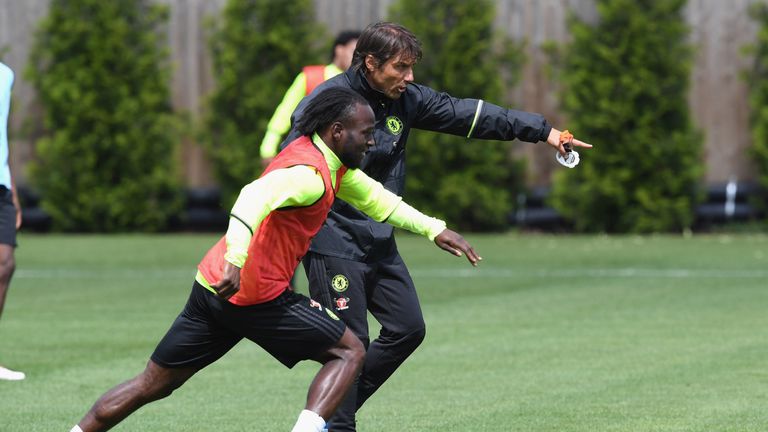 Seven weeks gone and club football has gone on the international break. Teams who didn't get the right result would be itching to try get back in while teams who got needed wins, the break could not have at a better time.
It was an exciting weekend with the matches split with brilliance on different days. Chelsea were able to grab a much needed win, Man Utd would be kicking themselves for grabbing maximum points against Stoke City, while Tottenham proved to us all they are legit title contenders for the Premier League.
Without further ado, here are the five things we learnt from the Premier League this weekend.
Tottenham Title Contenders.
We start off with the biggest win of the weekend with Tottenham seeing off Pep Guardiola's Man City at White Hart Lane with a 2-0 win. It was undoubtedly the biggest win of the season and not only did it expose Man City's Achilles heel it proved the team could well challenge for the title.
Tottenham Hotspur's Dele Alli Is Congratulated By Teammates After Doubling Team's Lead
The attacking threat and speed at which the team operated defensively was impressive even though they could run at full gear all game.
The team seems a more balanced unit and Pochettino just looks like he has toys to play with. Electrifying, cohesive, and have a creative force on every side of the pitch they should be walk into any game feeling indomitable.
Attacking, Entertaining But Not Clinical.
Man Utd hosted Stoke City on Sunday afternoon in an early kickoff and were unable to walk away with maximum points. The Red Devils kept knocking at the Potters' goal and even though a Martial curler found the back of the net, it was not enough as fans feared right from the beginning.
Man Utd Were Left To Rue Their Chances After A Late Joe Allen Equalizer
Yes, the Red Devils are attacking, playing 'champagne' football, and the attacking connections are levels on orgasmic. It is a contrast from what happened under Louis van Gaal last season but Mourinho would know champagne football only does not win titles.
Mou needs his men to be more clinical, it is way too early to be far behind your rivals.
Liverpool With A Spine.
Liverpool's victory over Swansea is a telling sign of the mental strength the current crop of players currently possess. Call it an overplayed Brendan Rodgers' line but the Reds did show great character after a quite solemn first half display.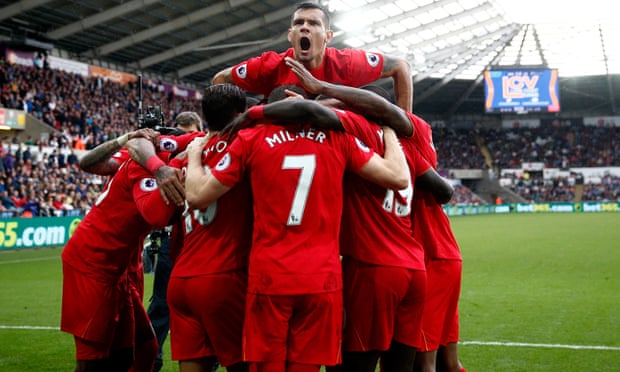 The Team Showed Great Character To Walk Away With Maximum Points
Although helped by a late penalty call, Liverpool were able to grind out a win which is so often linked to being the hallmark of champions. What should even be more celebrated is the Reds winning in a manner which so often in the past might have lost the game.
Black Cats Timid And Clueless.
Against West Brom, David Moyes men were unable to put up a performance that showed they were worthy of walking away with something from the game.
The Baggies came to the Stadium of Light and played like the home team. The team looked out of ideas and could thank a Van Aanholt shot for getting a point.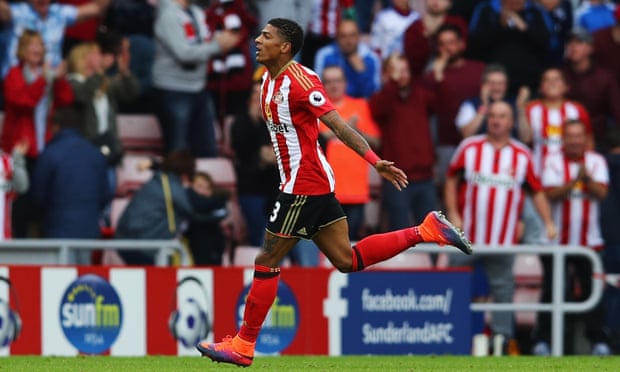 Sunderland Earn A Point Thanks To A Late Van Aanholt Equalizer
The quickest thing to do right now might be to sack under-pressure David Moyes but could backfire. The team is absolute bananas and the management did not help with the right transfers. Also, the Scottish man might just need time and the right signings to get it done even though time is against him.
Conte Likes Victor Moses.
It is not very often a player (bar youth players) gets loaned out to multiple teams and in the end gets to have a place in his original club or even starts matches. But Victor Moses it seems to be a breath of fresh air with Conte who seems to like the Nigerian.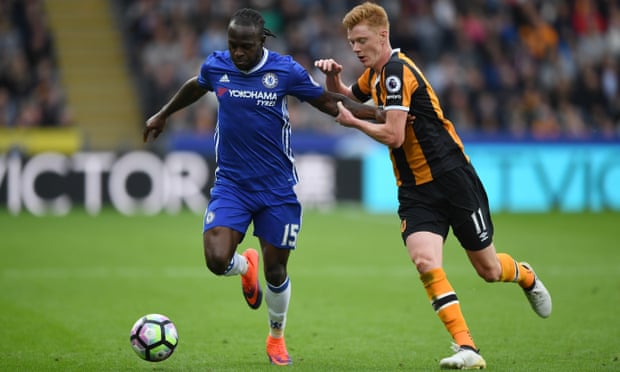 Victor Moses Operated In Wing Back Position For Antonio Conte Against Hull City
After having a mediocre display against Arsenal, Conte reverted to his famous 3-5-2 formation and in doing so offered Victor Moses a chance to start a game for Chelsea in three years.
Victor Moses has been getting minutes from the Italian in previous matches and the Nigerian would be hoping to be the best wingback at the club as it would be hard to displace Willain or Hazard from the wings in a 4-5-1 formation.