The Premier League is temporarily closed for the international break but not without leaving us with some memories to savor from the pas...
The Premier League is temporarily closed for the international break but not without leaving us with some memories to savor from the past weekend.
It is three wins from three for the new managers at Chelsea, Man City, and Man Utd.
Leicester City and Arsenal were finally able to get off to winning starts in the season and this week numerous penalties awarded.
We wonder if it is a competition to award the highest amount of penalties or has Mike Dean just set a standard that is crying of consistency? Here are the 5 things learnt from the EPL this season
Not too long ago, we wrote about the Chilean winger not being in the league of Suarez as a forward, and well you guessed it, Sanchez made us eat our words.
Against Watford, the Chilean won a penalty, got on the score sheet, and provided a perfect assist for Mesut Ozil to double their lead.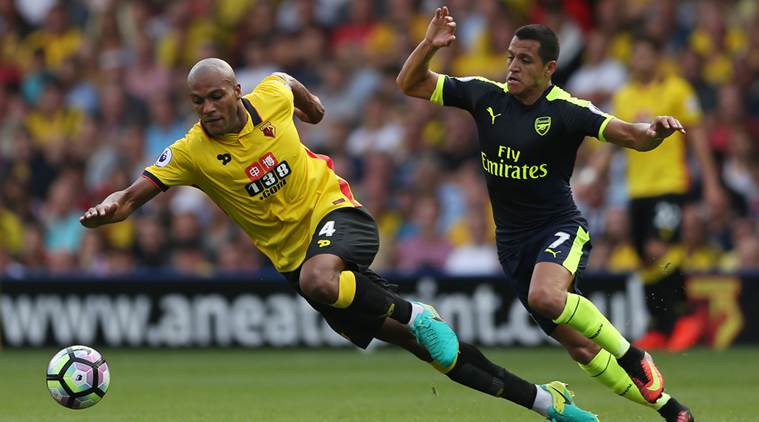 Sanchez Was Brilliant For Arsene Wenger In A Must-Win Game
He naturally found himself moving towards the flanks but was a handful when he tried playing down the middle.
Should it be a position he should be in more often? I doubt it, great job against Watford but not for the long run.
Rashford's late winner at Hull City brought the nostalgia and common phrase of 'Fergie Time' back but the build-up and aftermath of the goal showed a declined team spirit is on the rise at Man Utd.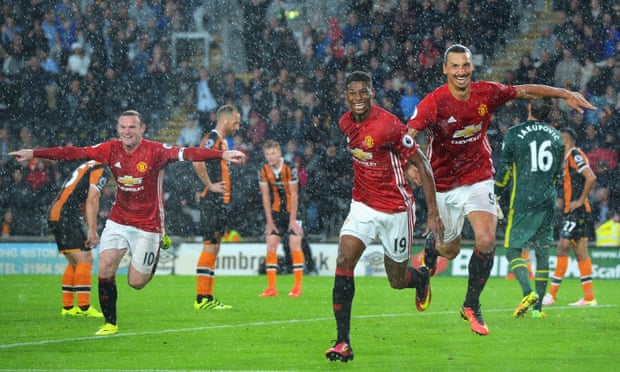 Man Utd Grab A Stoppage Time Win Against Hull City Thanks To Substitute Rashford
The Red Devils pressed consistently and barged together at Hull City's defense and at no time did the men in red think they could not nick three points.
The wonderful celebrations at the end especially from the bench- seating players who could be upset of not getting minutes, was delightful to see. Mourinho magic?
Liverpool could and should have had the three points during their visit to White Hart Lane having been the better side for most of the game.
The Reds' manager has put his imprint on the club and their football at times was nothing short of dazzling.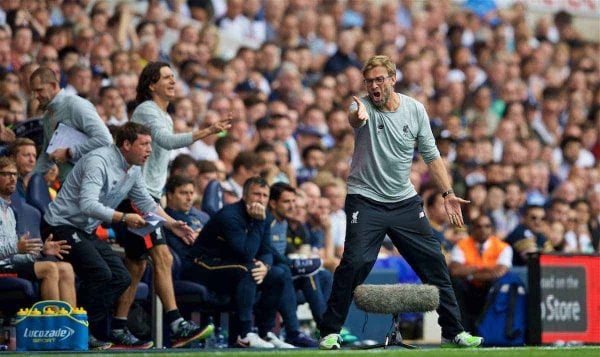 Klopp Visibly Animated In The Match Against Tottenham Hotspur
Liverpool were beautiful on the counter, created more chances, worked extremely hard, and were denied the win by a point-to-prove Vorm in goal for Spurs.
Klopp's relegation of Sturridge to the bench also showed he is ready to stamp his authority in. The results have been far from perfect but there could be hope rising at Anfield.
The Belgian winger had an unforgivable season last campaign but his early strides already under Antonio Conte just show that class is really permanent.
Against Burnley, Hazard curled in a beautiful opener and could have gotten on the score sheet numerous times after that.
Two Goals In Three Games For The Chelsea Winger
He was more than a match for Burnley's right back as the Belgian's continuous inverted play kept opening up holes in the Burnley backline.
In 38 games last season the winger scored just four goals, three games in and he already has two.
Last season 91 penalties were given throughout the campaign and this season if it continues at this rate we definitely would pass it.
Numerous penalty appeals were made in different games some worthy of being given and others just smelled of bias.
"You Get A Penalty, You Get A Penalty... Everyone Gets A Penalty!"
Six penalties were awarded this week taking the amount of penalties awarded already this season to 13.
There is a crackdown on unnecessary and excessive touching of players in the box this season, and while we have no opposition to it, we would hate to see teams pick up easy points from a man's game.