There were some upsets on the radar to go with some of the usual expected blowouts as the group stage of the UEFA Champions League danced its way through Wednesday night in Europe.
Real Madrid trounced Liverpool, while their crosstown neighbors throttled Malmo and Borussia Dortmund went nuts on Galatasaray.
We are at the halfway point in Groups A-D, and some English clubs are concerned about their fortunes to be sure.
Atletico Madrid 5-0 Malmo
A sleepy first half for the hosts was quickly awakened by Koke in the 48th, followed Mario Mandzukic and Antoine Griezmann goals two minutes apart in the 61st and 63rd.
Atleti is second to Olympiakos on head-to-head, as both clubs have six points.
Olympiakos 1-0 Juventus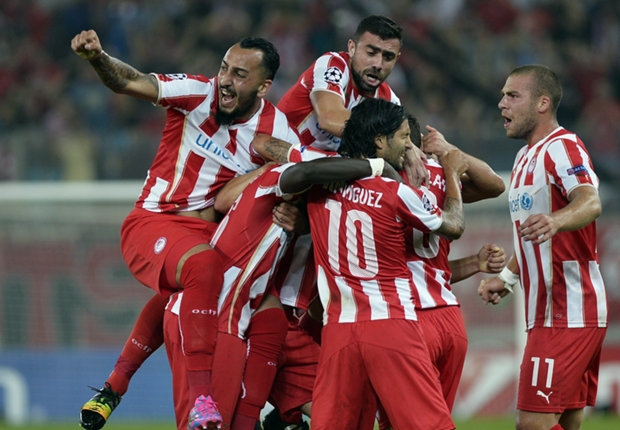 Former Fulham hitman Pajtim Kasami scored 35 minutes in, and that goal held up. Juve and Malmo each have three points, and sit a win behind Olympiakos and Atleti.
Liverpool 0-3 Real Madrid
Liverpool could not conjure up a magical European night and result at Anfield as they slipped to a chastening 3-0 defeat against reigning European champions Real Madrid.
A buzzing start from the hosts was not sustained and ultimately, it was the Reds' lack of attacking options in contrast to Los Blancos' embarrassment of riches that proved the difference.
Cristiano Ronaldo opened the scoring with a quite brilliant half-volley while Karim Benzema added a smart brace, aided by poor Liverpool defending, before the break to leave Brendan Rodgers' side with a mountain to climb.
Bulgarian defender Veselin Minev buried a ball in the 90th minute to lift the hosts, as the visitors nearly waited out a red card for a point. Ludo, Liverpool and Basel are all even on three points to Madrid's nine.
Bayer Leverkusen 2-0 Zenit St. Petersburg
Goals in the 58th and 63rd made it seem easy, but a 73rd minute red card to Wendell meant Bayer was waiting for the bell.
No magic from Berbatov for the hosts, who couldn't score despite a red card to Benfica's Pereira Dos Santos. Maybe Falcao should've stayed.
Galatsasaray 0-4 Borussia Dortmund
Borussia Dortmund eased past Galatasaray to continue their 100% record in this season's Champions League group stages.
A brace from Pierre-Emerick Aubameyang, followed by goals from Marco Reus and Adrian Ramos, secured the points and took Dortmund three points clear of Arsenal in Group D.
Two last-gasp goals from Kieran Gibbs and Lukas Podolski saw an uninspired Arsenal come from behind to beat Anderlecht 2-1 in Belgium and keep alive their Champions League hopes.
Overall it was a pretty gutless performance from the Gunners, who lacked quality without a host of injured first-team stars.
The Gunners came from behind in Brussels to steal a late, vital 2-1 win against Anderlecht, with goals from Kieran Gibbs and Lukas Podolski. Their victory means they stay relatively close to Dortmund, but it is the Germans who look the most fearful in this group.